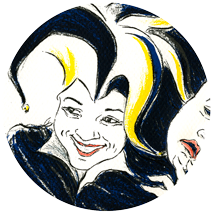 0%

X
To navigate in this 3D environment:
Drag left mouse button on background for orbiting
Drag right mouse button on background for panning
Scroll to zoom in and out.
Hover over items and click to make things happen.
Click on the icons in the side bar to change the styling of the Viola da Gamba or parts of the room.
This Faun da Gamba is extremely lonely just hanging on a wall in this room. This is not how it should be! Take him off the wall and make things happen...
This WebGL application is a proof of concept. Animations, speech, interactivity, and other enhancements are under constant development and will be updated regularly. Enjoy!
repeat intro