Blackbird singing on my balcony...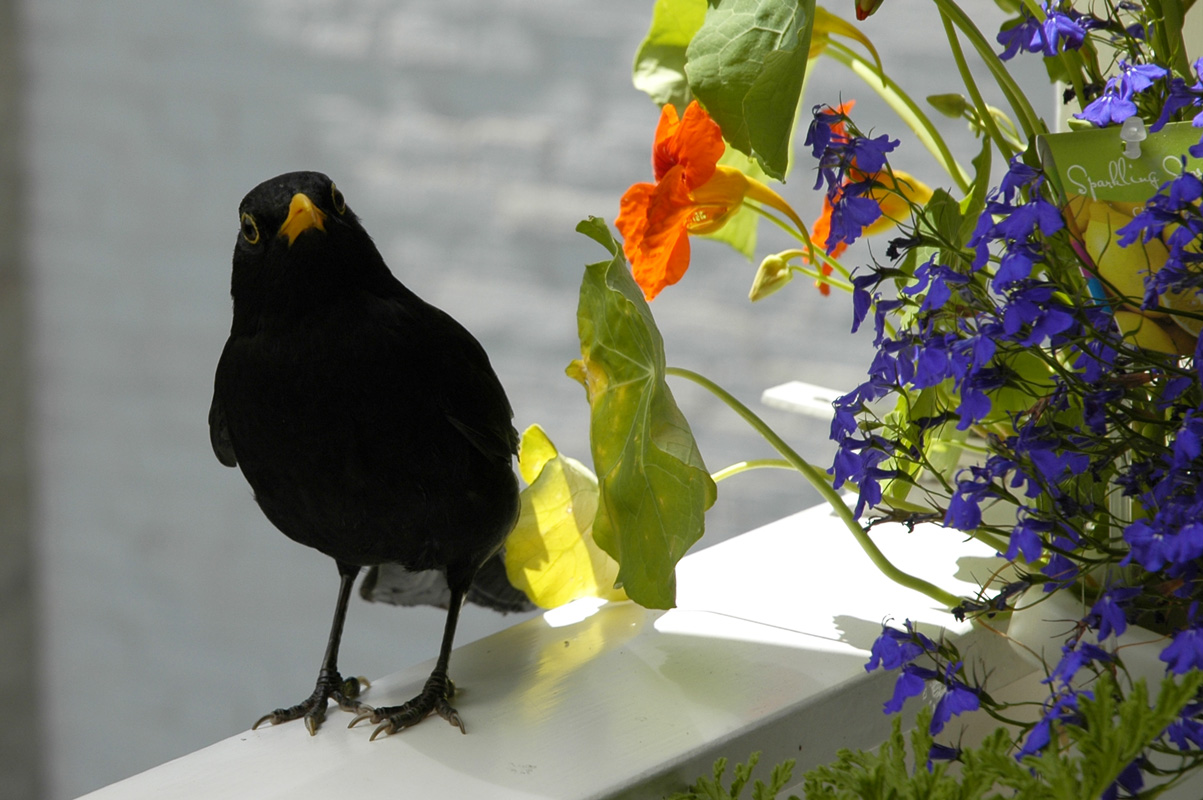 Here he was, my clever little blackbird. Where are my raisins?! I have been waiting for ages!
I felt guilty if I didn't immediately respond to his presence. In fact, I felt honoured that he trusted me. A trust that was built up over two years. The first year he was still shy, quickly flying away after I left a few raisins for him on the balcony of my studio. He observed me though and responded when I called him but never came near. Late autumn he left his territory.
The second year, early spring he was back. I recognised his distinctive song and he recognised my calling. After all, it meant there would be some comfort food for him to be had. This time he was more courageous and started to approach me by himself. Sitting near, observing me, communicating through his posture, song and movements.
I noticed that after a while he stopped eating the raisins himself but carried them away. He had offspring to feed and now his visits became more frantic.
I talked to him in my most musical voice hoping he could recognise something in my tones.
I told him once that he should feed his children more than only the raisins and berries I gave him. I couldn't believe my eyes when soon after, he showed up with a bunch of caterpillars and insects, still wiggling in his beak.
One day, he walked inside, all the way to the front of my studio. There he was looking at me and looking around. He had dared to enter my territory. I very carefully ushered him out, afraid that he might hurt himself trying to fly away. He walked out the way he came in.
He might have been desperate. It was a dry early summer and he had mouths to feed, but I felt honoured by this special visit.
He entered my studio once more and our relationship went on until late autumn that year.
In the years after, I tried to lure other blackbirds, spreading raisins, calling out softly but none of them showed any interest.
There is a decline in bird population in the gardens of our cities. Gardens get tiled up and trees get felled by people unconcerned or possibly unaware of their importance, not only to themselves but also to other more fragile inhabitants.